Lifted trucks are really cool, but let's face it: no one likes having to jump out of the truck every time they get out. Most trucks already have a step that is about 2-3 inches below the pinch weld, but if you have a lifted truck, sometimes that is not enough. Many people want to add steps to their trucks but are unsure about which one to use. The main focus should be on how much you have lifted your truck. That will tell you what is the best step for you and your needs.

The Bestop Powerboards count with a 6-inch drop distance from the pinch weld. They are mostly used in trucks that are lifted between 3 to 6 inches. The step can stand over 600 pounds and it is 6.25 inches wide. The step is deployed as soon as you open your door and automatic lights will light upon the top and the bottom of the step, making it easier for you to see where you are stepping.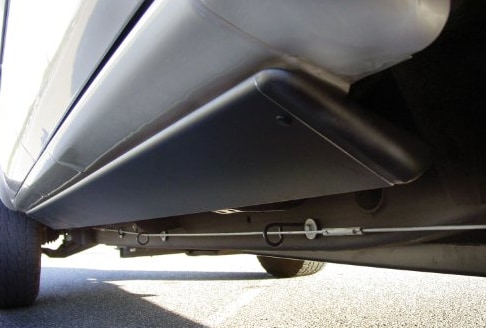 ​

The PowerSteps by AMP have the longest drop distance than any other board. It drops between 7 to 9.5 inches, and it is mostly used on trucks lifted between 5 to10 inches. It is 7 inches wide and as the step mentioned above, this one is also electric. It will deploy when the door opens, retract when the door is closed and lights will turn on when the step is deployed. Both steps have an average price range of $1,075 to $1,999.

We understand that buying a step can be expensive, especially on top of buying a truck and lifting it. However, there are indeed many benefits to adding this step to your truck. It just makes everyone's life easier, it helps people who are shorter, older, it helps animals to climb up and it is easier for buckling up children. You do not want someone struggling just to enter your newly lifted truck and by using retractable steps, you don't have to worry about changing the style of your truck.

If you are interested in adding a step to your truck, give us a call! At Clawson Truck Center, our highly qualified technicians are here to provide exceptional service in a timely manner. We can make adjustments to your truck as you wish! Click here to schedule an appointment.