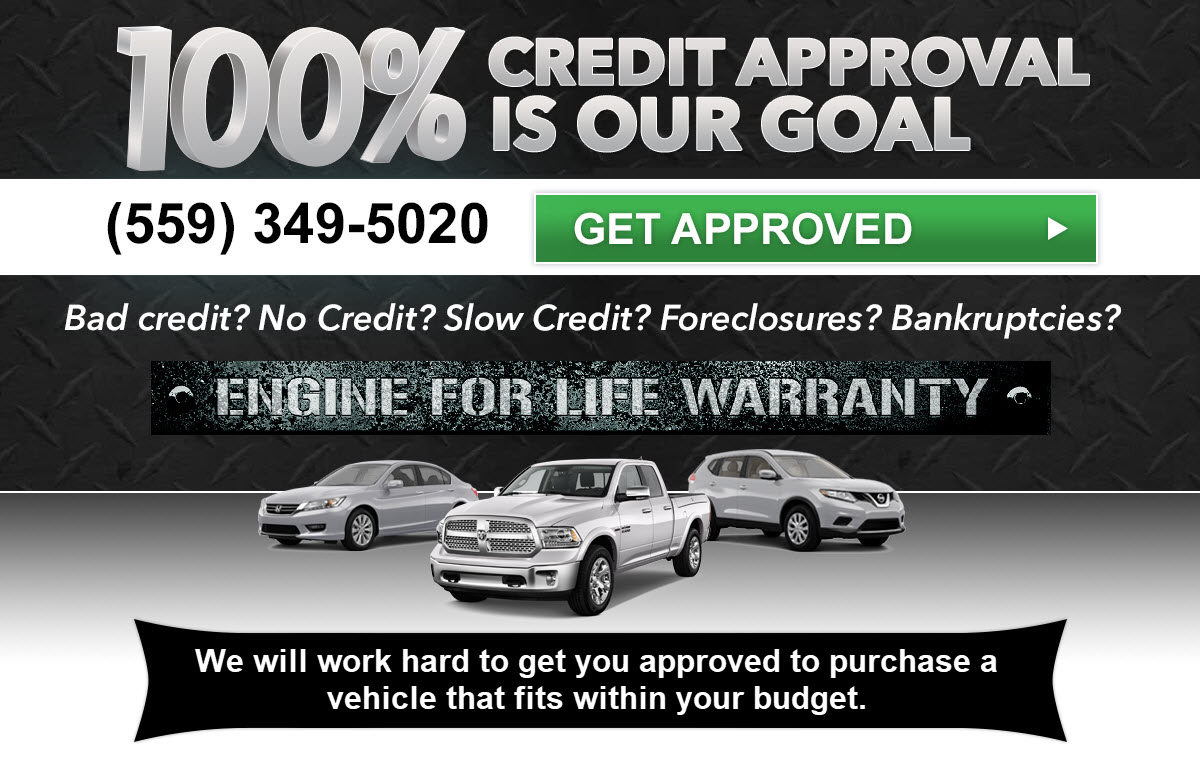 Get Approved With Us, We Are Here To Help!
❯ Instant Online Approval
❯ We work with over 50 lenders.
❯ Get into a car for as little as $0 down.
❯ Engine For Life Warranty with purchase.
❯ Bankruptcies and Repossessions? No problem!
❯ Se habla español!

Bad Credit Auto Loan In Fresno, CA
Buying a pre-owned Honda, Chevy or Kia can be a great experience, but it can also be a stressful one if you need a new-to-you car, truck or SUV and aren't sure how to pay for it. That's why our used car dealership near Clovis, CA, is here to help. Our financing experts offer different finance plans, including subprime financing options. If you want to drive home in a used vehicle that's just right for you at a price that fits comfortably into your budget, contact the Credit Doctor at the Clawson Truck Center. Then, visit our location to test-drive a few different models and find the one that's best suited for your budget and lifestyle.
We're dedicated to helping our customers make the right decision that will best benefit their financial future. Whether you have good credit, poor credit or no credit at all, you can rest assured that you'll find a loan at our dealership that was designed with you in mind. Our financing team specializes in helping our customers rebuild their credit and get them on the road to financial independence. The rates for our subprime auto loans are affordable and enable you to make payments that don't break your budget. When you apply for subprime financing and drive home in one of our vehicles you can repair your damaged credit while enjoying the benefits of a pre-owned set of wheels. This is also a perfect option for first-time car-buyers and those who haven't had a chance to establish a credit history, so visit our used car dealership to ask us any questions and learn more about our subprime financing options.
Our goal is 100% credit approval, so don't hesitate to visit our location even if you've been denied a loan in the past. We'll look at your entire financial situation and make recommendations as to what would be most beneficial to you. If you have poor credit scores or no credit history and are worried about buying a pre-owned or custom truck, don't fret! Contact us today and speak with our all-knowing Credit Doctor, who specializes in helping you secure an auto loan that you can afford. Whether you've had to deal with repossessions, foreclosures or bankruptcies, the Credit Doctor is ready to help you repair your damaged credit. Don't try to diagnose yourself. Call the Credit Doctor at Clawson Truck Center if you have the following symptoms: